Brass investment casting is a process of manufacturing that produces parts by the replication of models of wax. The casting involves using molten brass to produce a detailed and smooth end product without parting lines or flash. The process produces parts that are lightweight and very precise. A range of metals can be used for brass investment casting. Read More…
Brass Investment Casting
Brass investment casting is the manufacturing process that creates parts through the metallic replication of wax models.
Materials Used in Brass Investment Casting
The materials generally used for casting molds are resin, water glass, clay, raw sand, and various auxiliary materials. However, special investment casting involves ceramic mold casting and metal mold casting. Almost any metal that is castable can undergo investment cast. Usually, brass and copper are used for brass investment casting. The process of brass casting is done under extremely high temperatures.
Brass Investment Casting Process
The initial stage of brass investment casting is the creation of a master die from the wax. The wax pattern can be carved by a machine, by hand, or created by the process of injection molding. The die used is the same as the part to be made. The die is stuck on a rod of wax called a sprue. A number of the wax patterns can be attached to the same sprue. However, it can also be just a single wax pattern.
The master dies are then attached firmly to allow the assembly to be inverted and dipped into an investment. It may undergo dipping multiple times to achieve an even coating and the desired thickness. Another way of tackling this is by mounting the assembly in a flask and pouring it into the ceramic slurry. Afterward, the investment has to be left to dry.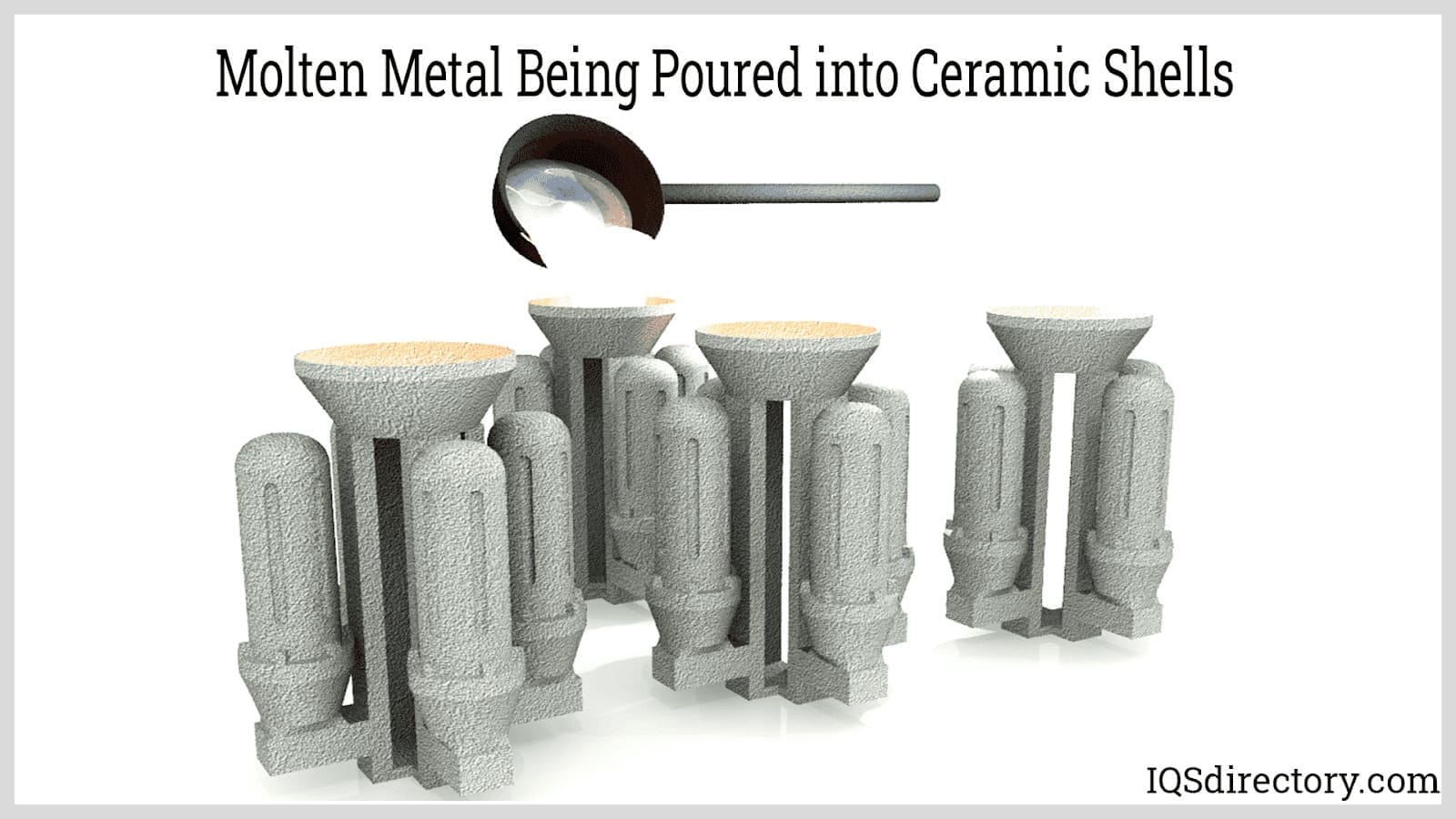 The drying process will require several hours; however, the process can be aided by a vacuum or a fan. When it has dried fully, the assembly is brought to an oven, where it is inverted and baked to vaporize or melt the wax.
The mold must be heated many times to ensure that there is no residual wax or moisture that would affect the liquid brass driven into the open space left by the wax. For the mold to be completely filled, the molten metal has to be drawn in through positive air pressure, a vacuum, or other centrifugal casting methods. Afterward, the brass is left to cool down and harden into a solid. The investment mold can then be removed for the brass casting inside to be released.
Applications of Brass Investment Casting
Brass castings are of great importance. They are used in many applications, such as for dental and medical tools, pipes, engines, propellers, fittings, nozzles, tees, radiator plugs, brass elbows, valves, and couplings. Their use is also employed in the chemical, aerospace, mining, military, electrical, food processing, sports, construction, telecommunication, and other industries.
The use of metal parts can be witnessed every day domestically, industrially, and commercially. For centuries, the process of brass investment casting has been used for the production of jewelry.
Advantages of Brass Investment Casting
There are several advantages of brass investment casting over other manufacturing procedures, as stated below:
The process of investment casting creates parts that are lightweight and very precise.
The process can be done using a wide range of metals, including aluminum, steel, and gold.
Brass investment casting produces a detailed and smooth end product without any parting lines or flash.
The final product has smaller diameter holes than die casting, forging, or sand casting.
Brass investment casting is environmentally friendly and has great dimensional geometry on the final product.
There is no tooling cost required. The brass investment casting products are also in various grades and sizes.
However, a major drawback of investment casting is that it is very expensive compared to other manufacturing methods.
Choosing the Proper Brass Investment Casting Company
To make sure you have the most constructive outcome when purchasing Brass Investment Casting from a Brass Investment Casting Company, it is important to compare at least 4 or 5 Suppliers using our list of Brass Investment Casting suppliers. Each Brass Investment Casting Company has a business profile page that highlights their areas of experience and capabilities and a contact form to directly communicate with the manufacturer for more information or request a quote. Review each Brass Investment Casting business website using our patented website previewer to get an idea of what each company specializes in, and then use our simple RFQ form to contact multiple Brass Investment Casting companies} with the same message.
Brass Investment Casting Informational Video